Pala Leather : The bespoke Leather Jacket !
 Often associated with misfits and rebels due to its bad boy vibe that it transmits, a leather jacket is the epitome of attractiveness, class and especially confidence. No other clothing piece is as bold and offbeat as a leather jacket. It can transform anyone's personality, making them look tougher, more confident and more stylish. A leather jacket is not only a modern-day Armor that gives its user a boost of confidence and a sense of masculinity but also its fabric has proven to provide better protection than regular clothes. And that is why leather is loved among bikers since it protect them from damaging their vital parts of their bodies in case of an accident or crash, and as if it is not enough it also protects them against wind during the winter's coldest days while still making them look badass and effortlessly stylish.  » A simple leather jacket has gotten me through cocktails parties in New York and cold nights in Afghanistan » (Ronan Farrow Quotes, 2022).
With so many fashion trends that comes and leaves, it goes without saying that the leather jacket will always remain an undying timeless staple that will never go out of style because its stylish, durable and versatile and therefore, it is an absolute must have piece that everyone needs to add in their wardrobe regardless of their style or aesthetic whether it is casual, formal, street, chic or even rockabilly or bohemian. Pala Leather will offer you a wide choice of leather jackets to choose from and if it is not enough, they even propose bespoke custom leather jacket creation which we will cover later on in the article.
The Story Behind Pala Leather :
Before talking about the brand's history let's have a look at its origins and evolution. From where did it all began to how it got passed to Mr Lianzhen Yang who is the current owner of Pala Leather after 6 generations.
Part 1 :
As you can see it all began in 1890 when Mr yang used his workshop for traditional Chinese clothing and it was just a matter of time before the workshop became the number one clothing industry in the country. 9 years later Mr Yang moved from sewing golden and silver lines on traditional mandarin jackets and printing floral patterns on ladies' cheongsams to learning the art of making and leather good in both Europe & America.
Part 2 :

But it is only in only in 2002 that Mr Lianzhen took over the brand and restored his family's legacy and brought it back under the name of Pala Leather and did not only recruit the most skilled hand-sewing technicians from Italy and built a factory which is worthy to the Italian leather capital industry itself but also got himself drown into researching on how to make a perfect leather garment, how to recognize a good leather, and how to get a leather garment in perfect condition. ''When I felt I had enough knowledge, experience, and skills to start a brand that I would always be proud of, I contacted my partner to build the brand with me. We hope that Pala Leather will allow people to discover the beauty of leather clothing and the joy it can bring ». (Lianzhen Yang Quotes, 2022).
 With the goal to revitalize his family business and to fulfil the promised unfulfilled dreams of the previous generation Mr Yang renamed Precision into Pala leather with the main goal to show Mr Yang's attitude and to not only celebrate the spirit of leather but also to allow people to discover the beauty of leather clothing and the joy it can bring.
Tthe Artisanal Leather Craftsmanship Behind Each Jacket :
As you can see in Pala leather each jacket is treated as a work of art. Making a high-quality leather jacket requires top class raw materials, workers who are familiar with leather jacket making and everyone's serious attitude and passion towards leather jackets. With every leather garment the team send out, they expect to get a variety of feedback. It can be positive or negative, as long as the feedback is true and useful , It will help the business Mr Yang built as long as he can learn a lot from it and make it better and better each time. Tanks to its latest R & D for design. Every year, the brand gathers the forefront designers and buyers to discuss this year's fashion trends and select the most outstanding designs from thousands and thousands  of designs for their annual models and staples. In order to develop several designs, hardware and accessories that allow the brand to come up with some of the sickest designs we've seen so far such as :
and even went to re-design and recreate some of the most iconic leather jackets such as the classic perfecto jacket the father of all leather jackets. As well as bringing back the old aviator jacket model also known as the bomber jacket and give it a modern look while still keeping its original vibe to give its user both an old school vibe with a modern touch. Without forgetting to mention the unbelievable multi pocket jacket which has a street techwear vibe to it a true graill to all the futuristic and practical tech fashion lovers out there.
Usually, all the brands works either with lambskin or calfskin for making their leather garment while Pala Leather uses Goatskin which is the best leather type available in the market since Goatskin jackets have a coated/waxed colour to it which makes the jacket darker and shiner.  While lambskin is the softest and calfskin the toughest, goatskin on the other hand is more durable and eye catchy due to its glossy coated colour and also got both the advantages that the other skins have. But do not worry if you're a lambskin or calfskin or sheepskin fan or even pigskin!! Pala Leather will get you the most luxurious leather quality available in the market depending on your leather choice to make you worth your while.
A Wide Range of Jackets To Choose From!! :
If you happen to be a leather fan or a huge shop-acholic like us and planning on visiting Shanghai then you absolutely need to pay Pala Leather's store a visit!!. Located  No.161 Yuele West Street, Wucheng District, Wenzhou City, Zhejiang Province, Shanghai.  Their store is a know as Leather Paradise, a true heaven for any admirer of good leather. Not only you will be able to admire all the variety of the available products but also take a picture there as it is a true and marvellous place to be in. While 90% won't be able to visit the store, here is a picture of what their store look like along with some photos that show how big the range of jackets they have : Literally in all shapes, colours and styles.
Getting Your Dream Leather Jacket Can't Get Easier :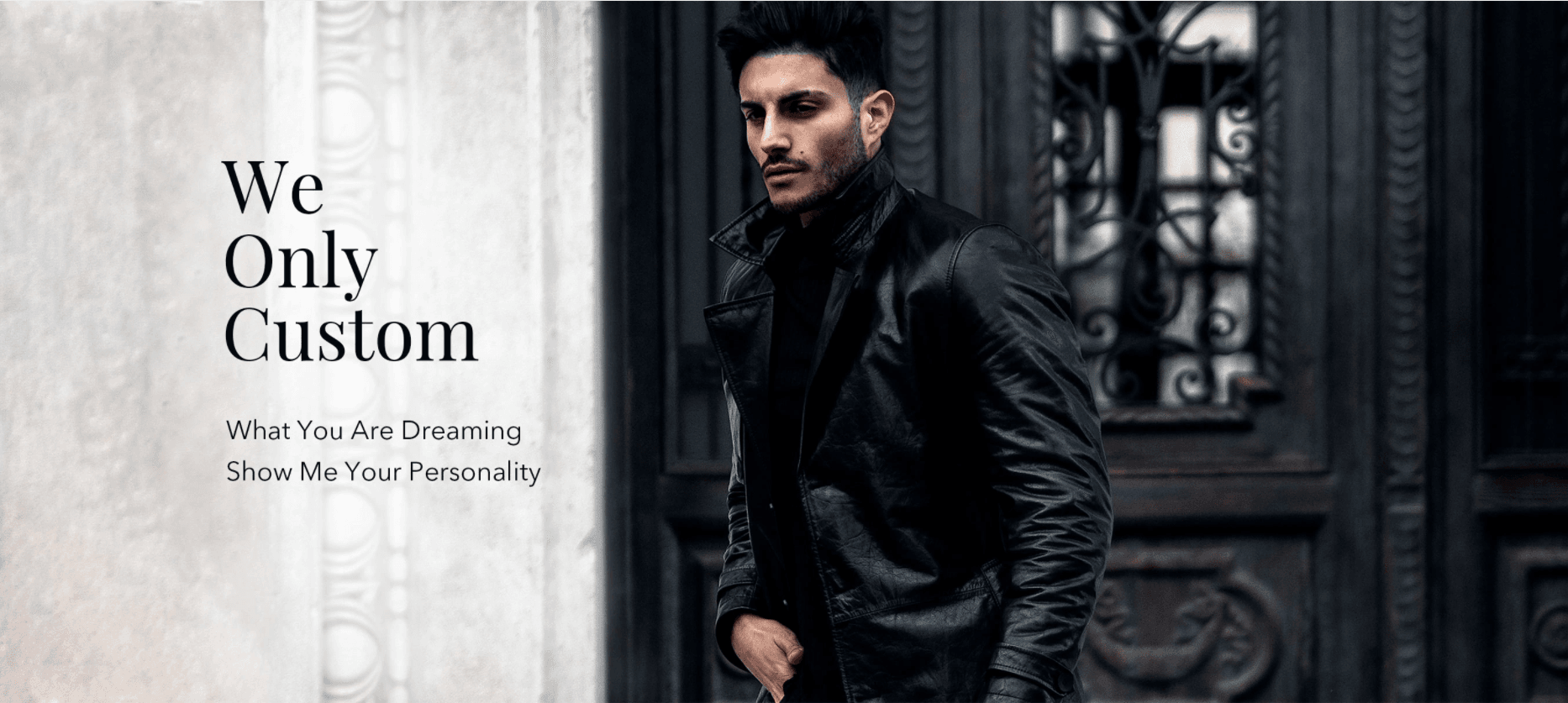 As i said, no matter who you are or what style you are into there is a leather jacket for everyone but in case if you can't find what you're looking for, Pala Leather offers a custom bespoke service that will you to  make your dream jacket from a concept to a reality. Pala Leather will create for you a  jacket that will reflect your unique personality and style, a piece that will make you stand out from the average. And in case if you're not familiar with the term custom it means that the jacket pattern will be cut to your body's measurements and cut to your liking and preferences and also you will have the ability to choose its fabric, hardware, colour, embroidery patches, lining, quotes and pins and even studs and fur or any other element you want. Pala Leather offers you 60,000 high-quality materials to chose from to design your dream leather jacket from scratch.
In other words If you are having a hard time finding the perfect leather jacket for yourself, then you don't have to worry about that anymore.  Because Pala leather will take care of everything for you from the design, to the cutting to the sewing and will keep you posted about your jacket's making to ensure that everything you asked for is respected and up to your expectation. In addition to all of this. The brand is reputable for its  high-quality custom-made and ready to wear jackets for both men and women at an affordable price rate with free shipping!!. And they also have a great return policy where you can easily return your order if there is anything wrong with it. As well as having different types of jackets styles including leather motorcycle jackets, retro leather jackets, vintage leather blazers, men's leather bomber jackets, punk rock leather vests, biker men's motorcycle jackets, ladies leather motorcycle jackets, etc. You may be worried about the quality of the product but don't worry because Pala's quality is certified. As they only use the best quality materials for their products so you can get the best value for your money. So if you don't want to fit in and getting yourself another ready to wear or popular leather jacket worn by everyone Pala Leather's team got your back.
Although, some of you  guys may think  »another made in China product ?" but we are proud to say that the leather jackets we received are incredibly high quality and truly feel and look luxurious without mentioning their fits which fits like a second skin. As the jackets were made by the finest experts in the country with a strict quality control system throughout the entire manufacturing process from raw material organization, production, packing to shipment.
How Does The Bespoke Service Work ?